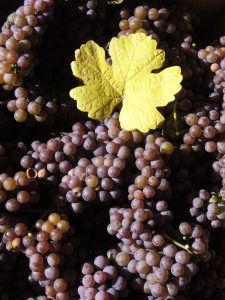 I just got back from delivering the last load of must (skins, seeds and stems left after making wine) to Quillisascut Farm School for their goats and apparently for their puppy dog, Pala, who was drinking the wine that dripped out of the must and on to her white coat. October was all about dealing with the harvest. The new Cabela's food dehydrator made short work of some crab apples and prune plums that were the last of the fruit needing to be dried after the dryer fire pictured in last month's blog. So now we have a lot of dried fruit, especially pears, and are accepting requests for donations from those of you with fewer trail mix components.
But most of the month was devoted to bringing in the biggest and best wine grape crop yet. I was expecting that it would also be the earliest, and in some cases it was. We picked the first harvest of Lucie Kuhlmann, my biggest and most popular producer on October 6th. I owe a lot to my neighbor Don Worley, who helped with the harvest and the crush, since I threw out my back at exactly the wrong time to handle that myself.
While that wine was fermenting, a lot of us were fomenting change in order to get Genetically Modified Organisms (GMOs) labelled in food stores. It sadly looks like we failed in that regard despite a second march in Colville and a fund-raising auction at Northern Ales, but that is really a story for the next blog.
The next big event on our calendar was our annual trek to the West Side for Thanksween, the Barreca Thanksgiving held early to avoid driving through snow on the passes in heavy holiday traffic. This year the Honorable Marc Barreca and his best friend, Nancy Craver, hosted the affair on Bainbridge Island. Cheryl and I arrived the night before and got to spend some extra time with them while they cooked 3 brined turkeys and several other dishes in their tiny "Easy Bake" oven. That heroic effort, lasting till past midnight, gave other folks more access to the kitchen on the big day and everyone more time to mingle. It also gave the Inlaws and Outlaws band more time to play music.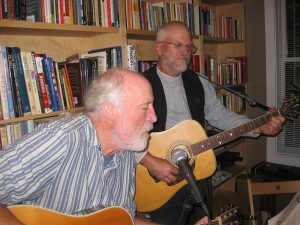 We even had my father, Joseph Barreca Sr. singing a few songs he requested out of the Inlaws and Outlaws Songbook (copies available on request).
As soon as we got back home I was testing the brix, (a sweetness scale) of the grapes. We had a few days of rain and clouds earlier in the month and were getting light frosts on the ground from October 4th on. It looked like the end of a great growing season, but the rain held off. Cheryl and I harvested 239 pounds of Marechal Foch, a dark red French Hybrid Grape, enough to make 21 gallons of wine right after getting back from Bainbridge. While the Foch was fermenting, we picked 5 rows of Baco Noir and one of Pinot Noir. Usually I combine these two with some Leon Millot (all French Hybrid grapes) right in the vat. But this year we had enough to make varietal batches of each one.
By the fourth week of the month we had a late harvest of Lucie Kuhlmann and three kinds of white grapes ripening in boxes on the subheated office floor. The last of the whites came off the day before a hard frost on October 29th. The next day I drained the outside water system; the Boston Red Sox won the World Series (sorry Dad) and we crushed the late harvest Lucie. Those Lucie Kuhlmann grapes ripened right up once they were warm. They were the largest clusters I had every seen on that variety. Now it is bubbling away with a covering of pink foam in carboys again heated by the office floor.
The real star of the harvest though were the whites. The main crop, Okanogan Reisling, got to 26 degrees brix, a record high and the target sweetness for a semi-sweet wine. Close behind were two other varieties, Geisenheim,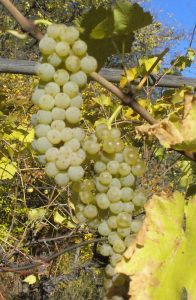 a tart juicy grape from Germany and Gewurtztraminer an aromatic white wine grape that blended well with the perfume of the ripe Reisling. I really loved the smell from that vat when I opened it to mix it down twice a day. But it may be two years before it is ready to drink. Note the vintage, "Golden Globe 2013". I probably won't release it for sale, but you might get a taste some day.
While all of this was going on the software that had been driving my Map Metrics website for many years kept breaking down and having to be restored from backup. For the last couple of years I have been intending to replace it and now was the time. An inventory of the site showed hundreds of pages of content, blogs going back to 2009, every page of most of my map books and maps linking to pages of history of old towns in the area. I reconfigured it to show the main menu items as icons on the front page so it will work better on smart phones. There is still a lot to do on the new site, but it is up an running, with much less content, I hope you like it.  (Under the blog tab there is a link to pictures from the Capitol Christmas Tree in Colville – a preview for next month.)