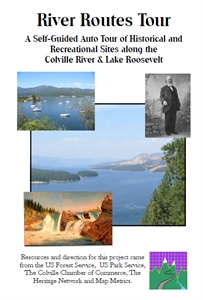 RIVER ROUTES
For thousands of years since the last Ice Age this area was a gathering
place and a hub of activity in hunting, fishing, trading and travel. Until
Coulee Dam was built in 1938, this region was grew in stature as the
Crossroads on the Columbia.
The River Routes Tour shows the early importance of the Columbia
River as the main transportation route through the region. Natives and
Early explorers traveled by canoe. For many years in the late 1800's
steamboats came up the river stopping at towns along the way until
they reached Harvey, (#13) now under water, where the Rickey Rapids,
south of Kettle Falls prevented further progress. Goods were portaged
around the Falls to Marcus where Captain Pingston's Steamboat and
others proceeded north into Canada.
Later wagon trails and highways followed along the shore and were
moved along with many early towns when the waters rose behind
Grand Coulee Dam. What did not move were the thousands of acres of
orchards that gave Washington State its fame for producing fruit.
This 24 Page booklet gives short histories with pictures and maps of 30
points of interest including old towns, campgrounds, vistas, waterfalls and
historic buildings along the route of the River Routes Tour.