I noticed while working as an appraiser in the Assessor's Office 18 years ago that you could pretty-much tell the age of a farm owner by the state of repair of the farm. Rural properties tend to go through a cycle. When new, new houses, barns, shops etc. are built year after year. This usually indicates a young family that is growing the enterprise along with the kids. As the kids grow up various outbuildings no longer fill their original purpose and often are used for storage. An old place usually has run-down buildings, old cars and equipment and maybe a house that is still holding together. This may be more than an analogy for a typical life. Heck, this is a typical life.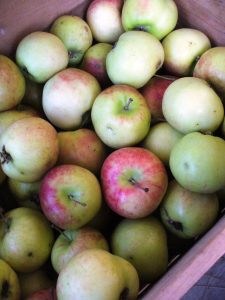 What happens is that you start out with a lot of vim and vigor creating one new venture after another. Some of those don't pan out but pieces of them almost always remain. Even when they succeed, they need maintenance and repair. The more buildings, cars, web sites… you have, the more maintenance is involved. The same thing goes for your body, the more years you have on it, the more maintenance it needs. Eventually maintenance and repair are not going to be enough. Entropy is inevitable.
So, launching a new enterprise, a winery for instance, is fraught with difficulty. You have the regular chores: firewood, housecleaning, eating…and then the seasonal chores: picking up the bird nets, raking up grape leaves, digging in the potted plants, storing equipment for the winter, cleaning the chimney…plus new tasks in a chain reaction. Want to change the office building into a
tasting room, clean out 18 years of old files, old computer stuff, old software packages, old backup disks. Take stuff to recycle, stuff to the dump, start to sell stuff on eBay and you still have stuff to store. So you need to add more shelving in the storage shed and to do that you move stuff out to the cellar or under a tarp. And you need to list things on the Internet to sell and watch those.
The worst part is examining every item and doing triage throw out, recycle, sell, store. Actually that is four choices – quatrage? At any rate you end up digging through your whole life, mostly the stuff you wanted to just forget in a corner somewhere. As they say, getting old is not for sissies. The process is not just external. You have to rethink stuff, develop new patterns like daily core exercises, change the way you eat. And then when stuff goes really wrong, like your back is thrown out or a tooth breaks, you need to visit the doctors.
All this makes getting anything done, making money and keeping enough of it to handle maintenance and repair as well as developing new stuff even harder. It's not exactly like sticking your finger in the dike, but more like sticking a cork in the dike and hoping it holds while you run around sticking corks in new holes in the dike.
Luckily we took a lot of breaks this month. Movies and a play, Captain Phillip, Mannheim Steamroller, A Fine and Pleasant Misery (Pat McManus), Catching Fire (Hunger Games). We also ate out and with friends. It was a lot of fun to see the Capitol Christmas tree in Colville.  (The official site is: http://capitolchristmastree.com/) So it's not all downhill although you might consider entertainment as
maintenance. You either keep maintaining and repairing or die. Today I just about got my desk cleaned off. Some day I'll have the office cleaned out, my body cleaned out and my mind cleaned out. In the meantime, even when starting something new, it's pretty-much all maintenance and repair.